It's another rainy day here again today and maybe for you too, so I've shuffled the activities a little bit so this task can be an indoor or outdoor one. It takes a bit of planning and waiting but it's worth it!

You will need: For the first bit: food colouring or paint, water, anything to freeze water in - we suggest a bowl or mug - and a freezer. For the second bit: salt, a pipette or water pistol (a paint brush works too) and a tray or plate to work on.

Using a your container, fill 2/3 with water. Now mix in food colouring or paint so you have a strong colour. Now pop it into the freezer. If you don't have the freezer space, you could use an smaller egg cup or a cup quite easily. You might want to do a few of these in different colours. It will probably take a few hours to freeze (we usually freeze in the morning so that we can then do the activity in the afternoon).

Once your ice has frozen you get the fun bit. Turn the ice out of its container. Pop some salt into a pot and some water in a small cup. Rub the salt onto the top of the ice and the use the pipette, water pistol or paint brush to slowly add water. As you sprinkle the salt and add the water, rubbing it in, you should see tunnels and grooves start to form. It makes an unexpectedly beautiful pattern when you hold it up to a light or window.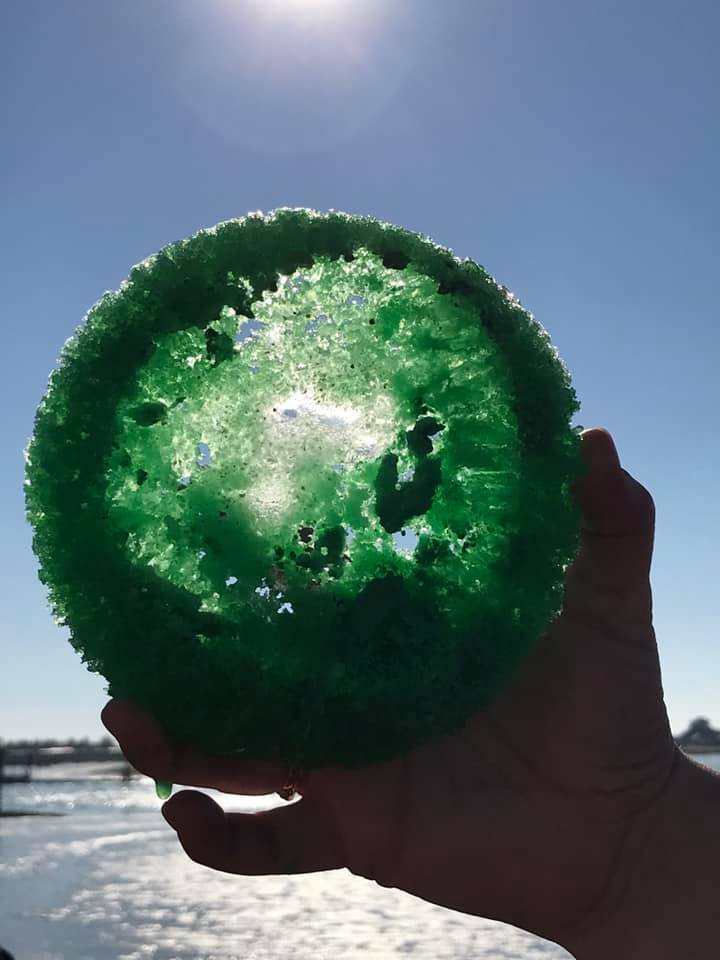 We often repeat this activity but make the water we're using with the salt a different colour (for example yellow ice and red water or red ice and blue water) so we see the two colours and some colour mixing too. It's a great revisit of our water colour mixing activity or our food dye splitting activity which are both in our activity bank.