Morning! Lovely simple activity today... you can gather some bits during your morning walk, or buy them. Whatever works for you!

You will need: a jar with a lid (or plastic bottle), some soil, some tiny stones, a little sand (not necessary but helpful), and some plants. There's lots of info here about the best plants for a terrarium if you want to do it properly (and bigger!), but we often use moss, cress and then add a fairy mushroom made from some clay. Sometimes we add a "baby" from a spider plant if you can find one. My girls love that the terrarium develops so quickly using moss and cress.... use what you have!

Open the jar and lay it the way you would like. I recommend on it's side, because it makes it much easier to pop the bits in that you would like. First you need to get the layers in. You want a good layer of stones, followed by a thin layer of soil, then a thin layer of sand, and another layer of soil.... you should have clear stripes. You need the stones to stop the soil and plants rotting, so make sure you use plenty.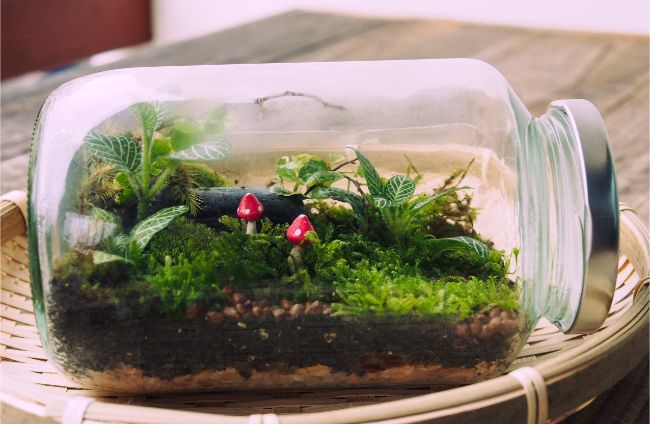 Now for the fun! spay in some water so the soil is nice and damp. Gather some moss, and pop it onto the soil in the places you want. Position all the additional bits you'd like to add (fairy or dinosaur gardens are popular here!) and then sprinkle a couple of small patches of cress seed over the top. Give the plants another spray and pop the lid on! A little BlueTac, or playDoh will stop the jar rolling.

Now, wait and watch. You should never have to water it again and you have your own little eco cycle inside. Enjoy it growing and plan the next one!