You will need: a paper plate (or some strong card), some scissors, tissue paper or sticky back plastic, pressed flowers, a hole punch (or something to make a hole) and some string.

Firstly, you need to collect the flowers. Carefully pick some beautiful flowers (ideally ones that are relatively flat already, but any will do. Once you are home, get 2 pieces of kitchen towel. Place the flowers carefully front down onto the first piece and cover with the second. Now place the heavy books (or book and heavy objects on top). Now for a bit of patience! You need to leave them for at least an hour, ideally overnight! Once they are flattened, you can dry them in the microwave. Place them on a plate and pop in for 10 second bursts until they feel like dry paper. If you don't have a microwave, you might want to leave them to dry naturally. This takes between 1-2 weeks during hot weather.

Whilst the flowers are drying, you can start preparing your sun catcher. Take your paper plate (or cardboard). gently fold in half and cut into the middle - you need to cut around the middle, leaving about 5 cm thickness for the edge of the 'window'.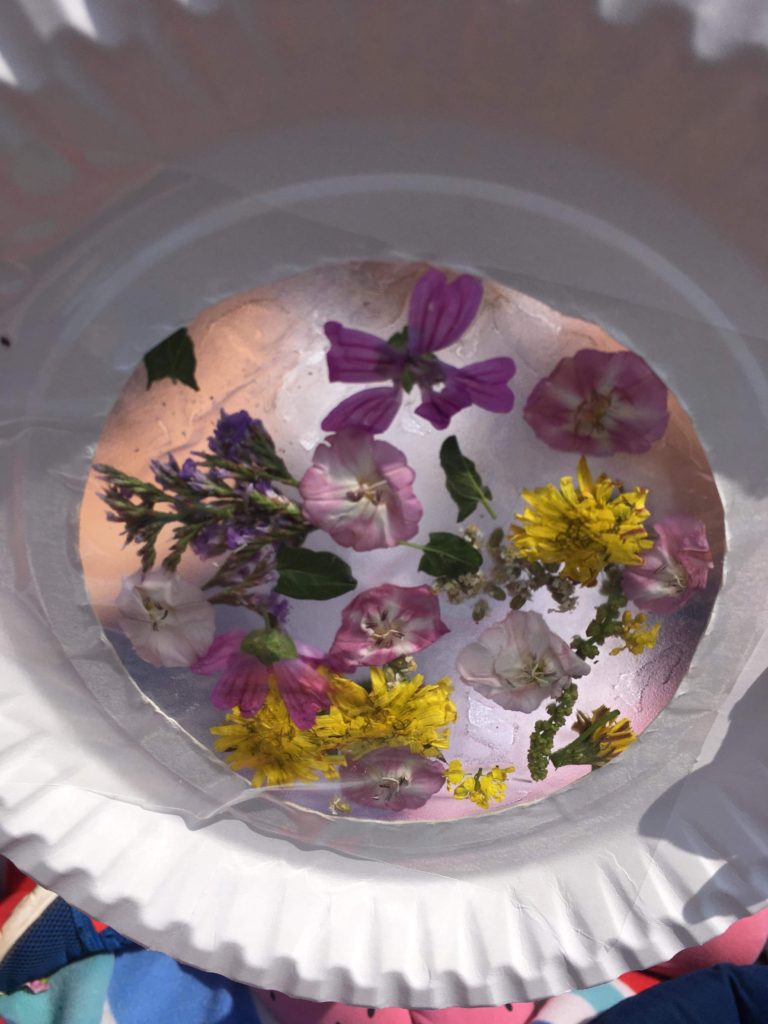 Once the window is cut out, your child can decorate round the edges. Now cut the tissue paper or stick back plastic so that it overlap the edge of the paper plate when it is stuck on. Make a hole in the top and tie some string in so you will be able to hang it.

When the flowers are pressed, stick the tissue paper/sticky back plastic onto the paper plate/cardboard shape. Place them in the pattern you want over the sticky back plastic/tissue paper) and stick them down.

Hang up and enjoy! If you likes this, you might also like our flower bookmarks, flower tea lights, leaf maths and Hapa zone flower bunting.