Here is a particularly successful improvisation with two performers, at High Water Springs in January 2023.
The bell was formally inaugurated by Cllr Ivan Henderson, Mayor of Harwich Town Council, on October 9, 2022. It was a terrific day, with children performing to a shanty, speeches, thank-yous to the many people who had brought the project to life, and a specially written shanty. About 150 people were present, and the bell duly rang. It is the eighth to be installed around the coast of the UK.
The video below features a conversation between Marcus Vergette, whose concept the bell is, and Libby Scarfe, prime mover of the project in Harwich.
There is also a good interview by Owen Ward of the podcast Essex by the Sea here.
Triumphantly, the bell was installed on Sunday September 25, 2022. The first new bell for 3 years! It is a triumph for all concerned, above all for Libby Scarfe.
Fairly obviously the pictures show varying states of the tide..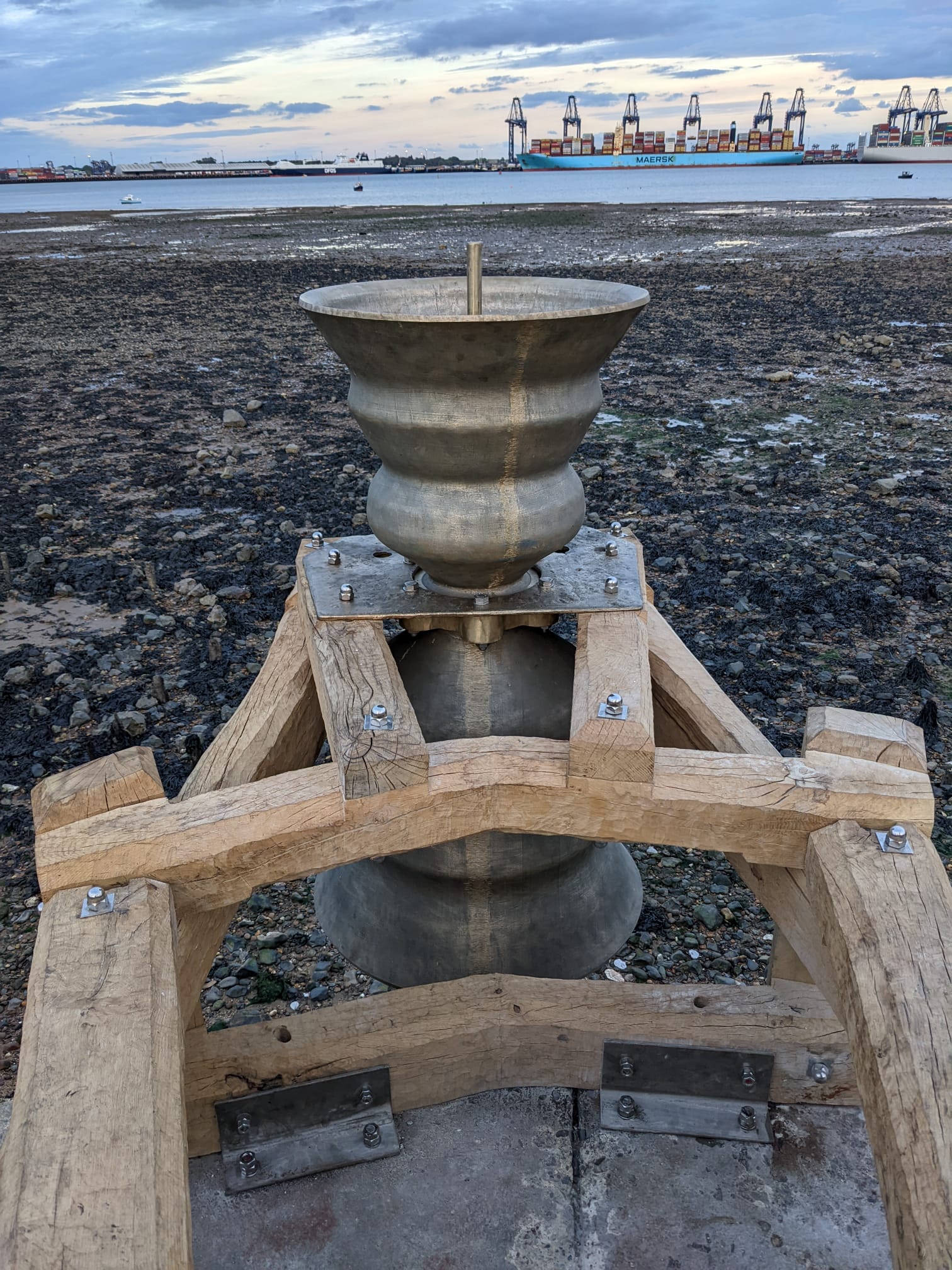 The design and construction of the mounting of the Harwich bell marks a departure for Time and Tide Bells. It is made entirely from oak, in fact an oak that was blown over near Marcus Vergette's studio in Devon. As a result it is extremely low in carbon content - very little steel. These photos are from the studio.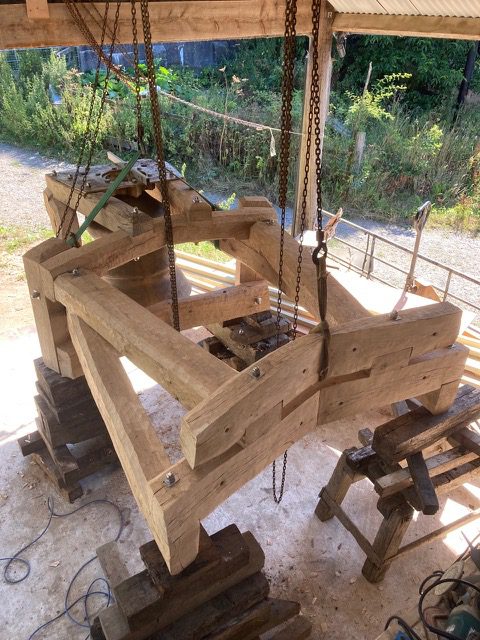 The installation was undertaken by partners Trinity House, a charity with a range of duties including General Lighthouse Authority, which amounts to maintaining lighthouses and buoys round the UK coast. It is based in Harwich.
Trinity House takes safety very seriously, so our cameraperson was not able to get very near the action!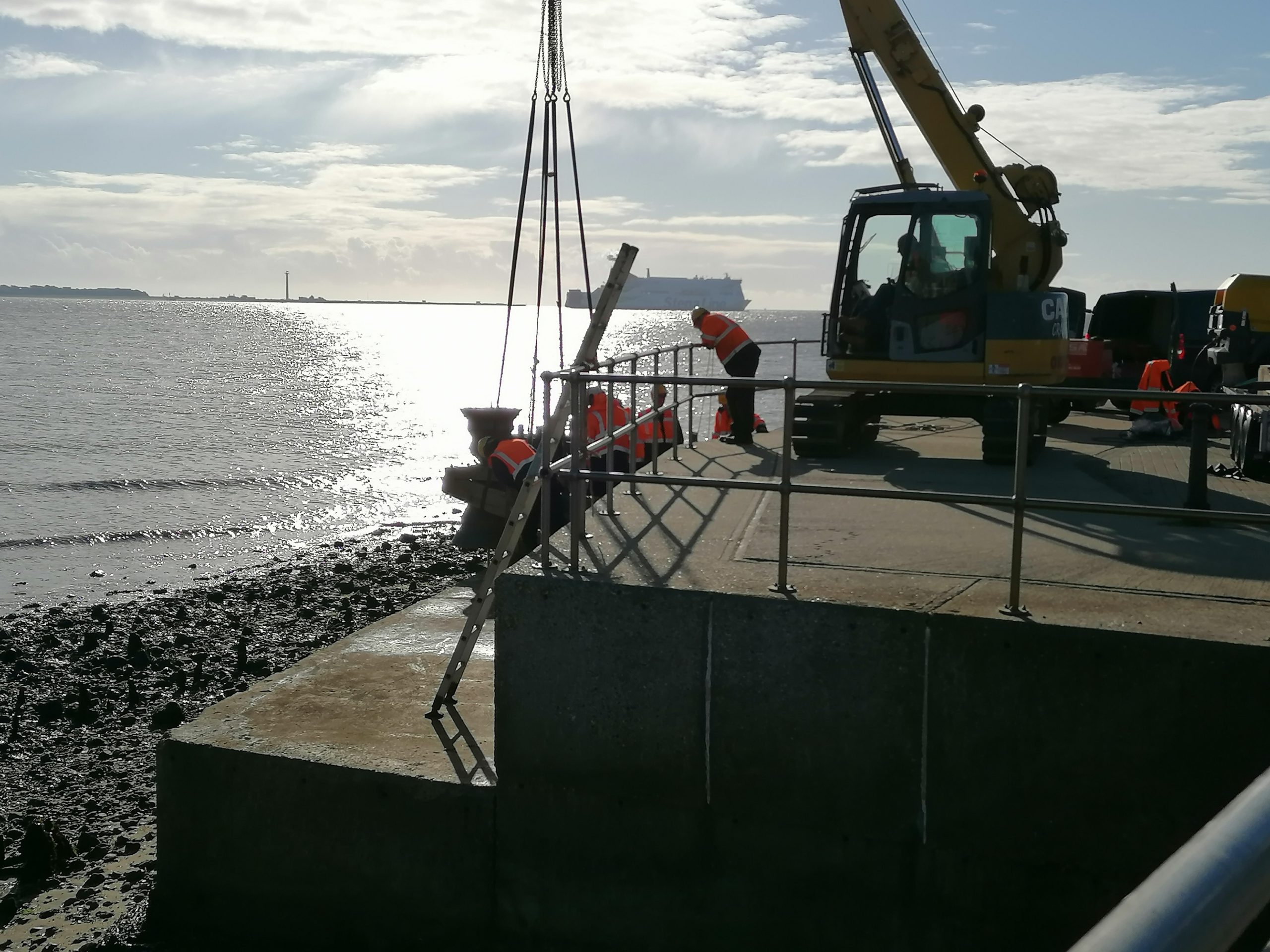 This month's recording at high water springs is dedicated to mothers: Pete's mother-in-law Eileen McDonald, his mother, who died in February aged 100, and Barbara Wood, who died in August.
After a long period getting funding and developing the design, the Happisburgh bell is at last taking real shape. Shown below is the radically different structure on which it will be mounted - a sled. Made of oak, it is a response to the continual erosion of the Happisburgh coastline, at somewhere around two to five meters a year.
The intention is that when the bell finds itself marooned at sea, it will be dragged inshore on the sled at its base. This is yet another commentary on the transience of this part of the coast, indeed of much of the East coast of the UK. For more information about coastal erosion in the area see here or here.
There is no date for installation yet, final permission is still required from the Marine Management Organisation, but there is a fair chance it will be in the Autumn of 2022. Until then the bell is a popular feature in residence at the local primary school.