This is pretty simple as long as you have some freezer space, but it is lovely!

You will need: 2 (or more, we used 4) egg shells (try to just have the top broken off), water, some flowers.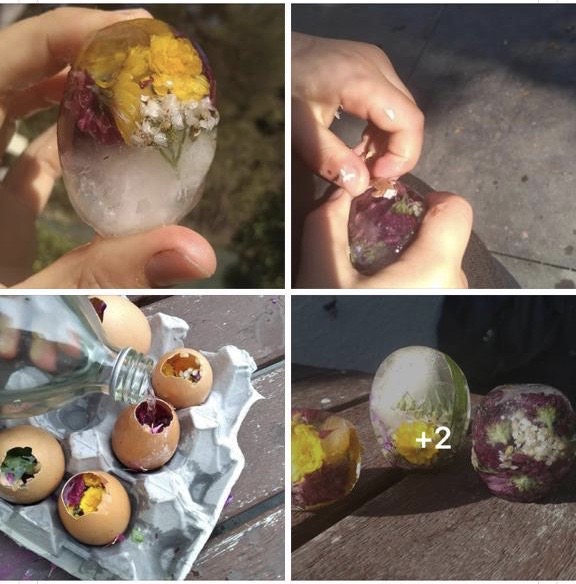 During your daily walk, or in your garden, collect a good handful of flowers - a mix of small and larger flowers works well (really big flowers do not work though, they don't fit into the egg shell!). Place the egg shells into an egg tray carefully, with the hole facing upwards. Fill with the flowers you collected, then carefully pour water into the eggs to fill them (great motor skills for smaller children). Pop them in their tray in the freezer, to turn to ice. Once they are ready (about 4 hours or over night) you can peel off the egg shell and you have some really pretty ice.

If you have older children, once you have trialled this, you can purchase glass resin (small amounts) and make paperweights with it in the same way. If you do this, remember a gently tap the egg tray to move air bubbles out of the resin.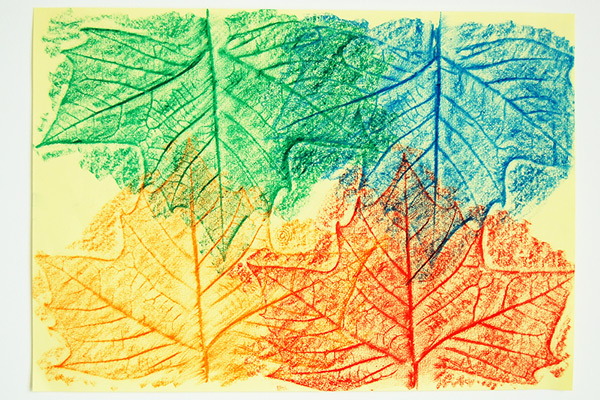 You will need: leaves (a few different shapes and patterns is helpful, but not essential), crayons, thin paper.
During your walk or in your garden, collect a few leaves of various sizes and shapes. Ideally 4-6. Position the left so it is upside down (botton up with the veins facing you) on a hard, flat surface (like a table). Place the paper over the leaf (if you have a very small child, you may wish to tape the paper down). Using the side of the crayon, rub the crayon very gently over the leaf. Do this over and over again until you see the pattern appearing. Now remove the leaf.
Can you explore? what other interesting patterns can you find in your garden? We found bark rubbings looked really cool, fence panels, big rocks and grasses looked interesting.