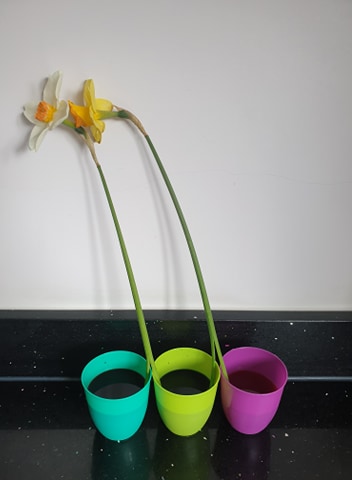 You will need: Coloured food dye (most strong colours work: red, blue, purple, green, orange), 2 cups per flower, a pair of scissors, as many flowers as you want to try (we tried this with tulips, daffodils and lilies we had been sent in the post - they all worked well).
Pop a little food colouring into a small cup with some water. Ensure you make it quite strong. Now do the same again with another cup - we had blue water and red water. Pop the cups next to each other, touching. Cut a flower you would like to use from the garden or during your daily exercise. Now, very carefully, cut down the middle of the stalk (to about 1/4 or 1/3 up). Put the flower straight into the water, one side of the stalk in one cup, one side of the stalk in the other cup.
Keep a daily eye on the flower. It will begin to change colour!