We have written some activities for you to use on world ocean day.We hope you enjoy them. There are some for the classroom, so that can be completed in the classroom or at home and some to do on the beach. Please do email us at hello@timeandtidebell.org with any pictures you are happy to share, or feedback!
To use the PDF, just click on the picture below to download it and then click on the links for more detail about/instructions to complete the activities.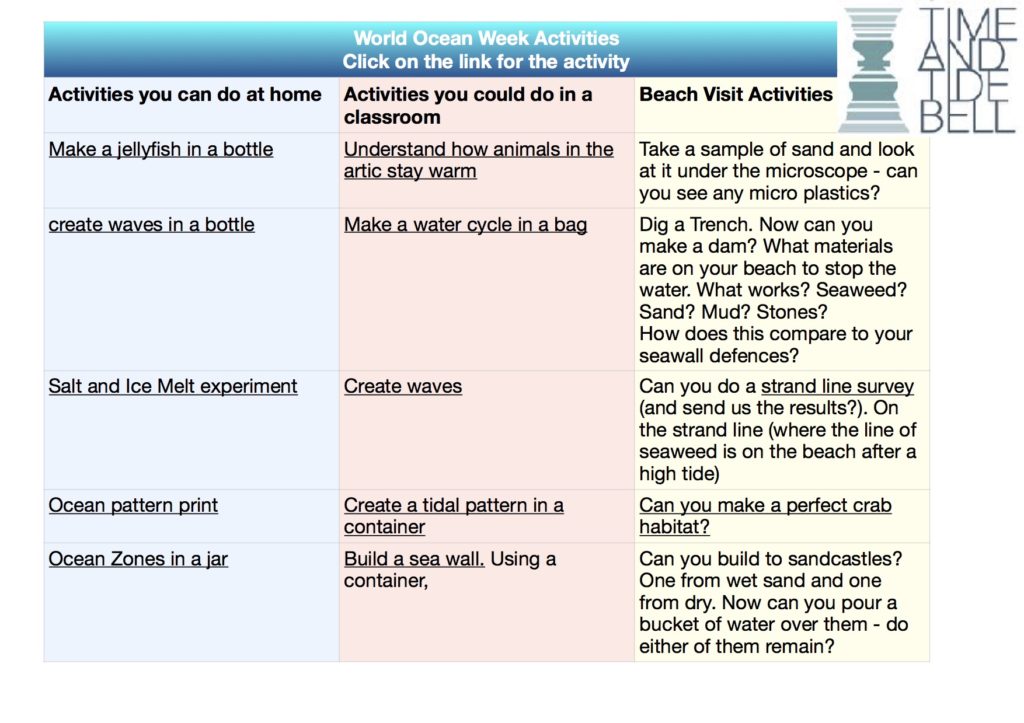 Enjoy!
We have a number of downloads which we hope you will enjoy and find useful when you are with your children on the beach.
A simple guide to identifying things you find on the seashore is here. (Welsh language here).
Here is a guide to the main jellyfish around the British Coast (Welsh language here).
And here is a guide to identifying different types of seaweed.
These cards are designed for children in Pre School and Reception: download here (Welsh language here).
Cards for Years 1 and 2 (KS1) are here (Welsh language here).
They are designed to continue to develop childrens' understanding of numeracy, whilst playing on the beach. Research tells us that 'learning though doing' or 'practical maths' dramatically aids understanding.
The cards are written around the current (2019) English Curriculum and cover most aspects of the numeracy curriculum. They should be revised regularly, to build on learning elsewhere. The words have been carefully selected, to help children to develop their mathematical language, which is a focus in schools and the English curriculum.
We hope you and your child enjoy using them.
Juliette is working with local schools and home education groups to tailor resources directly for their needs. If you are a school or home education hub near to one of our bell sites, please get in touch We can tailor most of our resources to suit your needs.
Teacher packs will include: a short lesson plan with curriculum links, differentiated resources for children to complete and an activity guide. These resources are available to download, for free, via google docs, once your school has signed up.
Seashore surgery
This is an exciting project where teachers and students (usually Y3 and/or 4, but other years groups welcome) commit to 4 visits to the beach each school year. They take part in an eco-system deep dive; investigating animal life, flora and fauna and the different tidal areas on the beach. The school record their findings and share them with the project team and with marine biologists working with us. This data then informs research looking at the changing marine life around the UK. Each school will be able to access the data from everyone taking part and compare finds, as well as use the information to generate their own local questions. Citizen Science at its best!
Click here to join up.
School beach schools
We have some suggested STEAM activities that schools can use to engage children on the beach. These offer curriculum links, session plans and follow up resources that help children to understand tides, weather systems, local habitat, wind, as well as a few chemistry experiments and learning about colour and light. Some of these activities are shown on our blog and can be completed in a classroom or on the beach, others involve a visit to the beach to be completed.
To request these, please click here.